What's Nu?
Posted 10 kislev 5781 / 26 november 2020
B"H
What's Nu @ Sydenham Shul?
At the Forefront of Jewish Life
Your Family Shul Where Everyone is Welcome
By Rabbi Yossy Goldman
Dear Friends,
I never thought I would have to use this forum to discuss the biggest anti-Semite in world history! Is it really necessary for a Rabbi to have to explain to Jewish people that Hitler is not a laughing matter? That the Holocaust was not a joke?! Do you know that it is a universal Jewish tradition to add the words yemach shemo whenever using the name of the Nazi Führer? What do those two Hebrew words mean? Well, yemach shemo means "may his name be erased." So the whole informed Jewish world says we must blot out the name of this venomous villain and now we have Jews in our own community who are running their own cynical campaign by publicising the very name we are meant to obliterate! Is this normal?
Anyone who knows me will confirm that I have a healthy sense of humour. I had no problem, for example, enjoying comedian Nik Rabinowitz's shtik some years ago about the Beth Din guidelines for how to activate a security system on Shabbos. I confess he had me on the floor laughing. But this?! This is an abomination! Why is a Jew resurrecting the most diabolical anti-Semite responsible for more Jewish genocide than any other in all of history?! I don't know who is responsible for these videos making the rounds in the community, but I only hope and pray it's not anyone I know. If they should show up on your phone, please delete them and do not pass them on or you, too, will become part of the problem. Thank you. (End of rant.)
Today is the 10th of Kislev which means there's only 14 shopping days left till Chanukah!
Chanukah starts on Thursday night, 10 December and goes for 8 days through Friday, 18 December. Please plan accordingly and make sure you have all the necessary Chanukah equipment and lighting materials if you are going away over that period.
And here's a great new Shiur coming soon to help us get ready for Chanukah. Tune into "Blind Belief vs Light & Logic: The Core of the Chanukah Conflict" with Rebbetzin Estee Stern on Zoom this Sunday 29 November at 9:30 am. Women and Men welcome! Direct zoom link: sydshul.co.za/zoom. Thank you, Estee!
AND SAVE THE DATE!!!
On Thursday evening, 3 December, we will be hosting a Pre Chanukah-Extravaganza! A Zoom event which promises to be something quite unique! Watch this space! Details to follow!
On Monday night, we will continue with our very meaningful and enlightening series, "The Ten Commandments – Basis of our Faith" at 8.00 p.m. on Zoom. I suppose the only way a good Jew can enjoy Murder & Adultery is when you give or attend a Shiur on those subjects! 😊 This coming Monday we will continue with Commandment No. 8 which is Thou Shalt not Steal. Who knows, but if we can manage, we may even finish the last 3 Commandments and complete the entire series. If not, it'll take us one more session. You may still join even if you haven't attended before.
In case you missed it, here is the YouTube recording of this past Monday's class which covered Numbers 6 & 7.
https://www.youtube.com/watch?v=sXU8zkJSPMI&ab_channel=SydenhamShul.
Practical Parsha with Rabbi Stern continues on Wednesdays 9:00 – 9.30 a.m. on Facebook & YouTube. Here's the link to see yesterday's lesson on "Your Feet Are on the Ground… and Your Head?" https://youtu.be/yQinuVPNa3g.
I see our recent guest, Elisha Wiesel, was in the news this week as he accepted a big position with an Israeli company. Here's the link to our interview which drew a large crowd. An Evening with Elisha Wiesel (YouTube): https://www.youtube.com/watch?v=_CKHk1uM7a4&ab_channel=SydenhamShul.
And it continues to be my personal honour and privilege to be reciting Kaddish for all those observing a Yahrtzeit who cannot come to Shul. I will continue doing so until the situation has improved. But do remember, if you can come personally that is always a much better idea.
In fact, it is very encouraging to see more and more people now attending Shul, whether regularly or for Yahrtzeits. We are keeping up strictly with all the health and safety protocols and if your doctor gives you the green light, we will be very pleased to welcome you in Shul.
Mazel Tov to Woolf Tepper on the recent marriage of his grandson Daniel Schwartz, and to the parents Selwyn and Shuki Schwartz. Much nachas.
Mazel Tov to Lionel and Louise Ruben on the forthcoming marriage of their granddaughter Tali Abrahamson to Tzali Reicher from Melbourne. May they build a Bayit Ne'eman B'Yisrael.
Mazel Tov to Reuven and Ada Lewus on their grandson Netanel's engagement in Israel. Enjoy!
Mazel Tov to Stanley and Ingrid Seeff on their grandson Gabriel's Upsherenish, and to his parents Rabbi Ricky and Debbie. Lots of nachas!
And here's a very rare one…a huge Mazel Tov to Ettie Buch on her 100th Birthday! Ettie is Lynette Yach's mom and has been at SydShul many times over the years and always loves it. She is blessed to still be 100% on the ball too! A century and not out! G-d bless you, Ettie! When I tell you "biz 120" I mean it!
Happy Birthday to Melanie Fox for her big 60th! Many happy, healthy returns together with Hilton. (Talk to Ettie. You'll feel like a youngster!)
Congratulations to Benjamin Atie, newly elected Chairman of SAUJS at Wits. And to Natanya Porter who is now heading up Education there. Very important jobs. We are enormously proud that our own SydShul young people are making important contributions to Jewish student life at Wits. Wishing you both much success!
We wish a Refuah Shleimah to Marianne Ginsberg, Barry Beder, Charmeon Seeff, Rhona Scheftz, Arthur Hurwitz, Michael Levitan, Sholem Treger and Shaun Karpelowsky. Complete and speedy recoveries to you all please G-d.
This Sunday at 11 am we will be doing the consecration of the tombstone of the late Patricia Flaum. Wishing John, Caryn, and the family long life.
I wish long life to my friend and colleague, Rabbi Aharon Rose, on the passing of his father in Melbourne. Rabbi Rose spent 10 productive years at SydShul and helped establish the Shtibl Minyan, among other things too. Only simchas, please G-d.
I was also saddened to learn of the passing in Israel of Natan Mowszowski. Like me, the Mowszowskis are beneficiaries of a Sugihara Visa. Natan was very involved in Sandton Shul back in the day. Our sincere condolences to Terry and family, and his brothers Reuben, and our own past member, my friend Chanania in Sydney. Only simchas, please G-d.
Here's a link to my latest column in Jewish Life magazine. Are you happy and healthy? CLICK HERE. And CLICK HERE to read the entire magazine.
A lovely family home very near SydShul is going on Auction! 5 Roux Street, Rouxville will go to the highest bidder on Thursday 3 December at 14:00. Call Jodi on 083 777 8948. (We're looking for nice neighbours!)
Looking for fun-filled creative Chanukah gifts? Want to ensure a

Happy Chanukah

for your kids? Give the gift of a themed playdough kit for hours of imagination and fun play! Each kit comes with scented quality playdough, and many different textured theme-related items. Some of the themes are Chanukah, Construction, Birthday Cupcake, Toddlers, etc. Orders close 1st December. Visit them on Instagram at theartspot.sa for pictures or What's App to

Frumi

on 060 839 8039 for more info and to order.

Mark Horowitz

would like to inform his loyal patients that he is back in the area (Genesis Centre) full-time as the owner of Jonathan Fransman Optometrists. Please call 011 485 1446 and come see him for all your eyecare needs. Medical aid rates apply. You can also enquire about his summer promotion!

Munya Kahanovitz

has been doing voluntary work at the Sharp Foundation for the past year - it's a Rehab facility for alcoholism and drug addiction and has recently achieved her certificate as a Professional Recovery Coach. She will be pleased to coach clients in the afternoons on a Pro Bono basis, helping people who can't afford coaching and steer them in the right direction. Feel free to call Munya on 082 567 8159.
*****************************************
This week's Parsha is Vayetze in Genesis 28:10–32:3. Jacob leaves his hometown of Beersheba and journeys to Charan. On the way, he encounters "the place" and sleeps there, dreaming a famous dream of a ladder connecting heaven and earth, with angels climbing and descending on it; G‑d appears and promises that the land upon which he lies will be given to his descendants. In the morning, Jacob raises the stone on which he laid his head as an altar and monument, pledging that it will be made the house of G‑d.
In Charan, Jacob stays with and works for his uncle Laban, tending Laban's sheep. Laban agrees to give him his younger daughter, Rachel—whom Jacob loves—in marriage, in return for seven years' labour. But on the wedding night, Laban gives him his elder daughter, Leah, instead—a deception Jacob discovers only in the morning. Jacob marries Rachel, too, a week later, after agreeing to work another seven years for Laban.
Leah gives birth to six sons, Reuben, Shimon, Levi, Judah, Issachar and Zebulun—and a daughter, Dinah, while Rachel remains barren. Rachel gives Jacob her handmaid, Bilhah, as a wife to bear children in her stead, and two more sons, Dan and Naphtali, are born. Leah does the same with her handmaid, Zilpah, who gives birth to Gad and Asher. Finally, Rachel's prayers are answered and she gives birth to Joseph.
Jacob has now been in Charan for fourteen years and wishes to return home. But Laban persuades him to remain, now offering him sheep in return for his labour. Jacob prospers, despite Laban's repeated attempts to swindle him. After six years, Jacob leaves Charan in stealth, fearing that Laban would prevent him from leaving with the family and property for which he laboured. Laban pursues Jacob but is warned by G‑d in a dream not to harm him. Laban and Jacob make a pact on Mount Gal-Ed, attested to by a pile of stones, and Jacob proceeds to the Holy Land, where he is met by angels.
*****************************************
QUOTATION OF THE WEEK: Donald Trump reminded me of this one:
"Show me a man who is a good loser, and I'll show you a man who is playing golf with his boss."
*****************************************
SHABBOS SCHEDULE
Shabbos Parshas Vayetze
Friday Mincha: 5:40 pm
Shabbos Candle-lighting: 6:15 p.m. (latest it will go until next year)
Friday night: One Minyan in Big Shul at 6:00 PM
Shabbos morning: One Minyan in Big Shul 9:00 – 11:00 am. (starting with R. Yishmael)
Mincha on Shabbos: 6:15 p.m. followed by an interesting Shiur by Rabbi Yehuda Stern in the Shtibl.
Shabbos ends: 7:19 p.m.
Kiddush Levanah (weather permitting)
Sunday Shachris: 6:15 a.m. & 8:00 a.m.
Weekday Shachris: 5:50 a.m. & 7:00 a.m.
Weekday Mincha 6:00 p.m.
~~~~~~~~~~~~~~~~~~~~~~~~~~~
Hope to see you in Shul soon, in person!
From Rochel and our family, I wish you Gut Shabbos. May you enjoy a peaceful day of rest, relaxation, and reJEWvenation.
Sincerely,
Rabbi
Posted 26 November 2020 / 10 Kislev 5781
https://us02web.zoom.us/j/8130284050?pwd=YUx3NTB1WFFHRm1tei9VcERkU2E5QT09
Meeting ID: 813 028 4050
Password: sydshul
https://us02web.zoom.us/j/8130284050?pwd=YUx3NTB1WFFHRm1tei9VcERkU2E5QT09
Meeting ID: 813 028 4050
Password: sydshul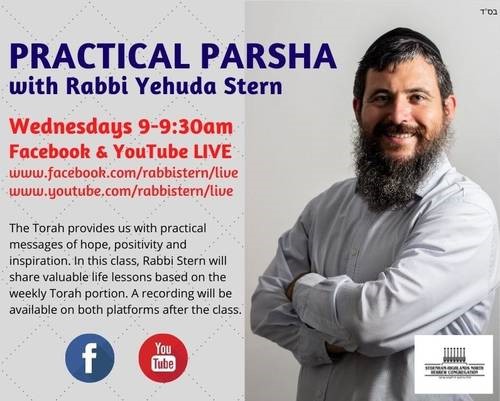 https://www.facebook.com/rabbistern/live
Tue, 1 December 2020
15 Kislev 5781
Today's Calendar
Shachris Early Morning Minyan

: 5:50a
Shachris Later Minyan

: 7:00a
Mincha / Maariv One Minyan

: 6:00p
---
Friday Night
Mincha Friday (One Minyan)

: 5:40p
Maariv Big Shul and Shtibl

: 6:00p
Candle Lighting

: 6:38p
Shabbos Day
Shtibl Shabbos Minyan

: 9:00a
Big Shul Shabbos Minyan

: 9:00a
Mincha / Maariv Shabbos (One Minyan)

: 4:55p
Havdalah

: 7:21p
This week's Torah portion is

Parshas Vayishlach
Candle Lighting
Havdalah
Motzei Shabbos, Dec 5, 7:21p
Erev Chanukah
View Calendar
Zmanim
Alos Hashachar
3:49a
Earliest Tallis
4:20a
Netz (Sunrise)
5:01a
Latest Shema
8:28a
Zman Tefillah
9:38a
Chatzos (Midday)
11:57a
Mincha Gedola
12:32p
Mincha Ketana
4:00p
Plag HaMincha
5:27p
Shkiah (Sunset)
6:54p
Tzais Hakochavim
7:18p
More >>
Tue, 1 December 2020 15 Kislev 5781